Petrovsky House
In 1908-10 a building in the Art Nouveau style was built at the edge of Petrovsky Park according to the design of the well-known Russian architect I. N. Kekushev. Now the landmarked Petrovsky House has been reconstructed and carefully restored to its original design by the owner – developer, Elbert Ltd.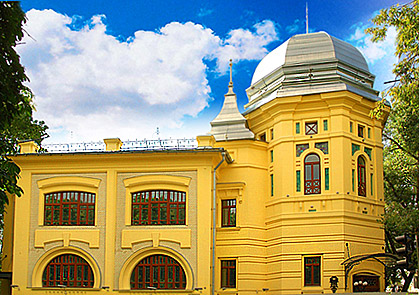 The total area of Petrovksy House is 7,000 sq.m. Automobile access and metro access run between the ancient trees and pathways of the park. One external wall, made entirely of glass, overlooks a courtyard. Four floors of the building are connected to each other by a glass atrium, which gives the overall space a bright and open feel. Here, modern amenities and history are combined – beautiful staircases inside a soaring rotunda, the 4th mansard floor. Open space layout is offered in the office premises.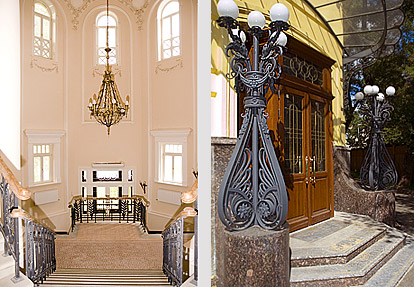 Petrovksy House has a grand conference or ball room, which has been reconstructed according to the original design in Art Nouveau style – with decorative plastered ceilings, inlaid parquet floor, and beautiful window frames. The total area of this room is 420 sq.m. Petrovksy House has a 36-car parking garage in its basement and a secure, surface parking area for 20 cars on the mansion grounds. The building is equipped with modern engineering systems: autonomous power and heating supply, central air conditioning and ventilation, video monitoring, security alarm and firefighting systems, and Thyssen elevators.